How to Plan Ahead for a Magical Christmas Wedding
Do you love the Christmas season? Perhaps you love it so much that you want to have a Christmas wedding theme for your big day! Christmas weddings are actually quite popular, as many people like the idea of incorporating holiday themes into their wedding celebrations. From twinkle lights to a stunning Christmas tree, from Christmas…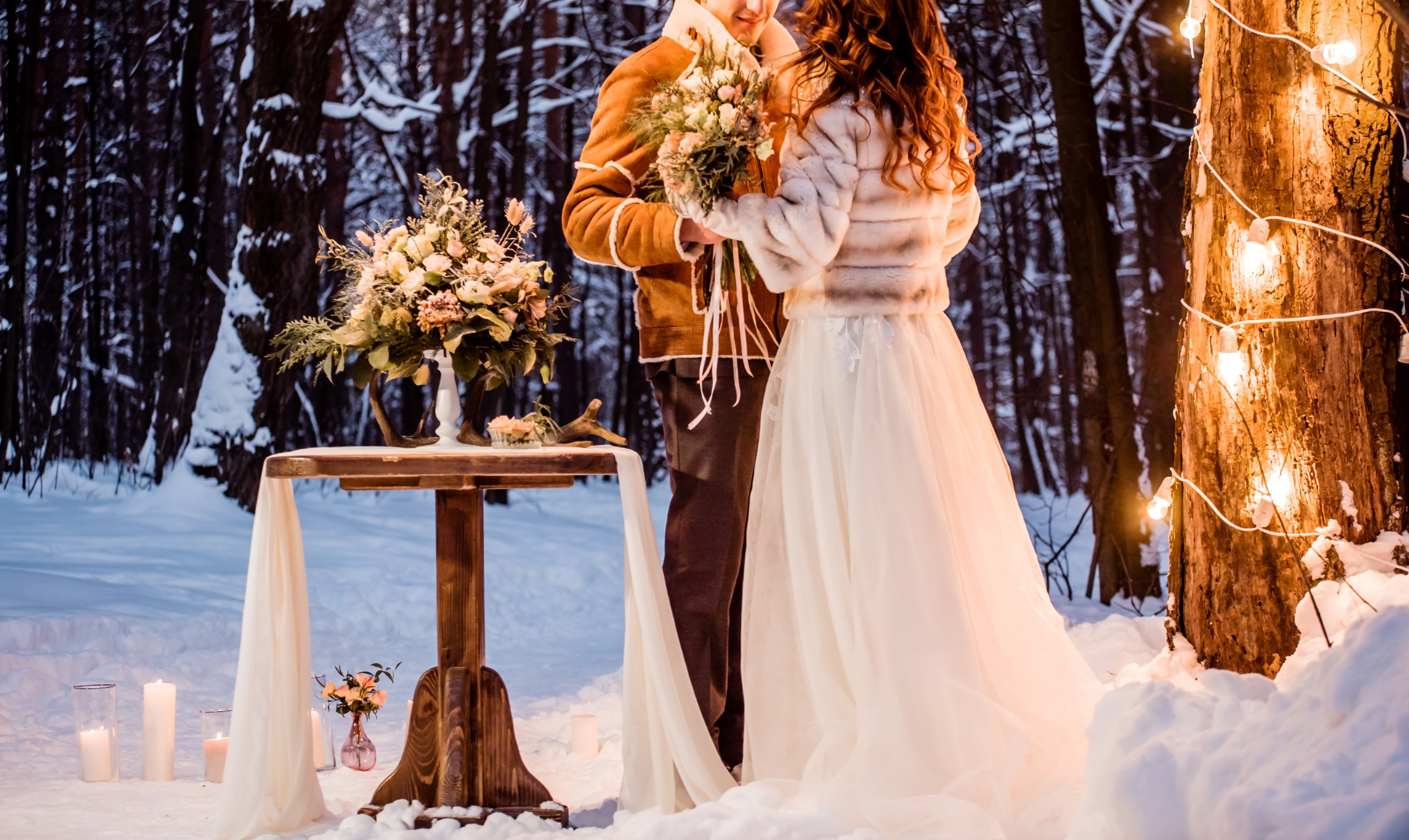 Do you love the Christmas season? Perhaps you love it so much that you want to have a Christmas wedding theme for your big day! Christmas weddings are actually quite popular, as many people like the idea of incorporating holiday themes into their wedding celebrations. From twinkle lights to a stunning Christmas tree, from Christmas decorations to holiday food, there are so many beautiful aspects of the holiday season that you use to make your wedding memorable.
Read on for some tips on how to choose the perfect date for your Christmas wedding, as well as a list of our top ideas for your Christmas ceremony!
Choosing the Perfect Date
When planning a holiday themed wedding, an important factor is selecting the perfect date. It's probably best not to get married right on Christmas day, as many of your guests will not want to change their holiday plans for a wedding. However, you can get married right around the Christmas holiday.
Weekend Wedding
A weekend wedding could be an option for you! Typically, they cost more as weekends are more in demand. The benefits of a weekend wedding are that most guests will be off from work, but a con is the cost. Saturday weddings are a great idea. If you have a Sunday wedding, remember than many people may have work the next day. If you have a wedding on Sunday, plan to start earlier in the day than you would on a Saturday.
Weekday Wedding
Having a weekday wedding can save you some money, so it can be a great option. However, it usually means that guests have to request time off from work. Take this into consideration when planning your weekday wedding! A Friday evening wedding might be a good option as many people will be off the next day.
Top 27 Awesome Christmas Wedding Ideas
Looking for creative Christmas wedding ideas for a festive holiday soiree? Look no further! Here, we've compiled a list of our favorite Christmas wedding ideas to bring the holiday spirit to your wedding.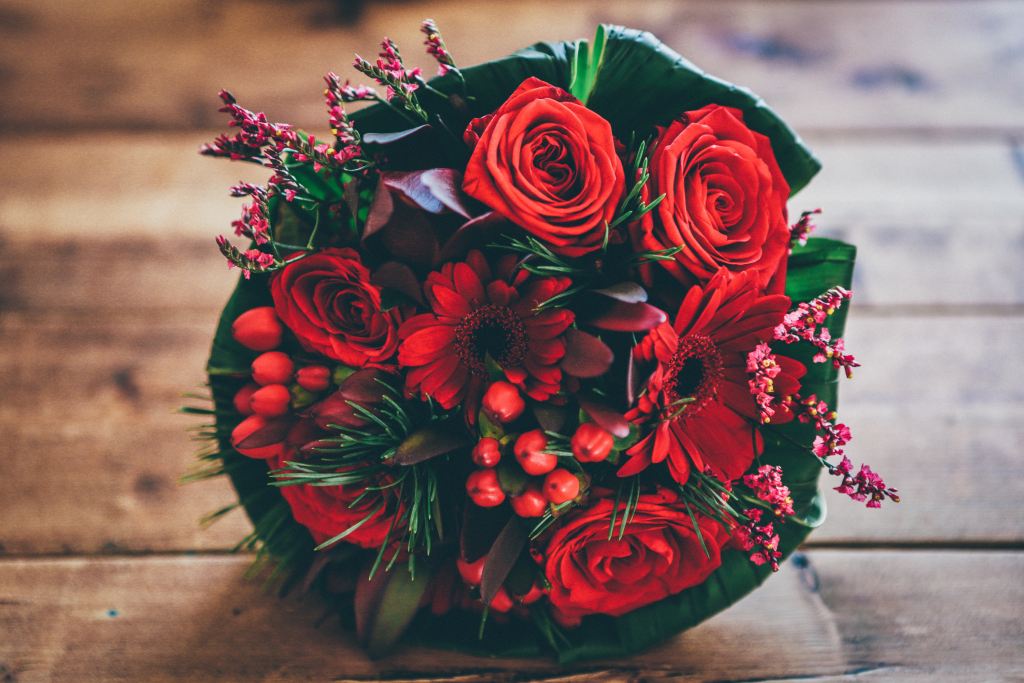 Try a Festive Bouquet
Use seasonal winter blooms in your wedding bouquet to bring in the holiday spirit. Think holly, orchids, roses, lilies, poinsettias, roses, and more. If you are going with traditional Christmas colors, you can use a lot of green and red in your floral selections.
Opt for Festive Wedding Stationery
Your wedding stationery should be reflective of the season! Try deep reds or pine greens paired with stylish gold text. You can also add pretty winter details to your stationery, such as pinecones or snowflakes.
Dress Your Wedding Party in Warm Flannel PJs
Have your wedding party dressed in cozy wintery pajamas. You can even gift them these pajamas as their bridesmaid gifts! This will also make for a great photo-op.
Select Sparkly Accessories
Add some winter sparkle to your wedding look! Choose sparkly jewelry and accessories to wear for your big day. You can even wear shoes decked out in diamonds!
Use a Christmas-Themed Flower Crown
For your bridesmaids, you can create floral crowns that resemble Christmas wreaths for a beautiful and festive touch!
Wear Faux Fur Stoles
Faux fur stoles are a great way to keep bare shoulders warm for a winter wedding – and they also happen to be quite stylish! You can go for brown or white fur – either would look great for a winter wedding!
Pick a Seasonal Color Scheme
Choose a wintery color scheme for all of your wedding decor! The obvious choice would be deep reds and greens, but you can also add touches of navy blue, deep purple, white, or gold.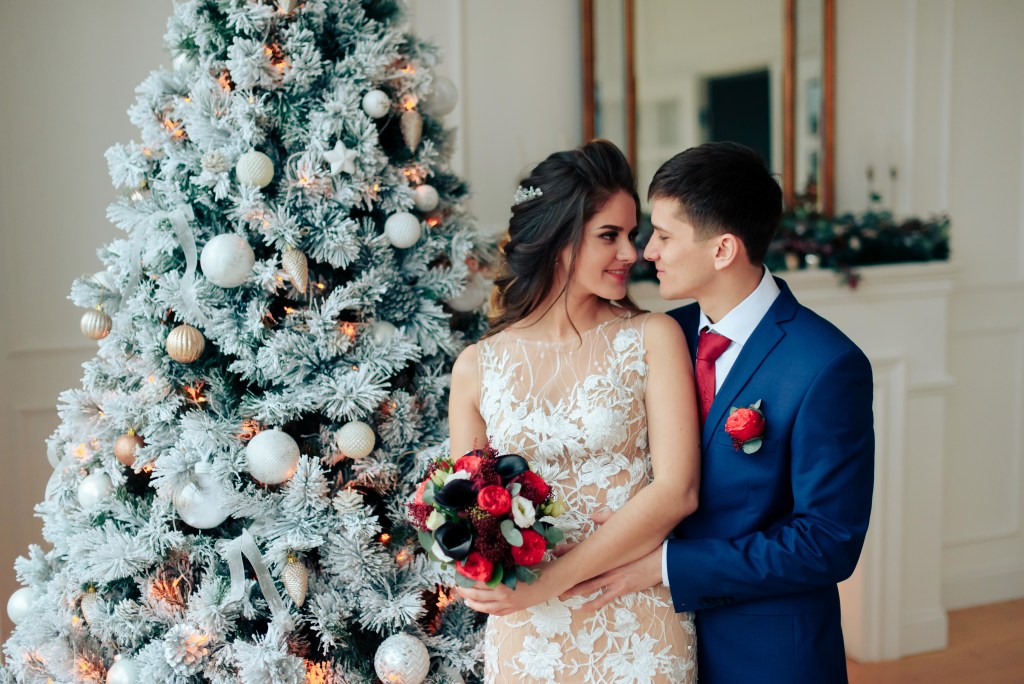 Decorate with Christmas Trees
If your wedding venue has the space for it, you can keep the holiday spirit alive by decorating a Christmas tree decked out in your wedding colors. A beautiful Christmas tree (or even a couple of Christmas trees) is a great way to spread holiday cheer!
Have Carolers Entertain Guests
A unique option for musical entertainment is to hire a group to sing Christmas carols for your guests. You can do this during the cocktail hour, or even during the reception!
Get Married in Front of a Fireplace
Add a warm and cozy touch to your December wedding by getting married in front of a fireplace. This will also make for some great photographs!
Play Harp Music for Your Christmas Wedding Ceremony
Harps are beautiful no matter what time of the year, but this can be a classy way to add a seasonal touch to your wedding. Hire a harpist to play beautiful Christmas music during the ceremony.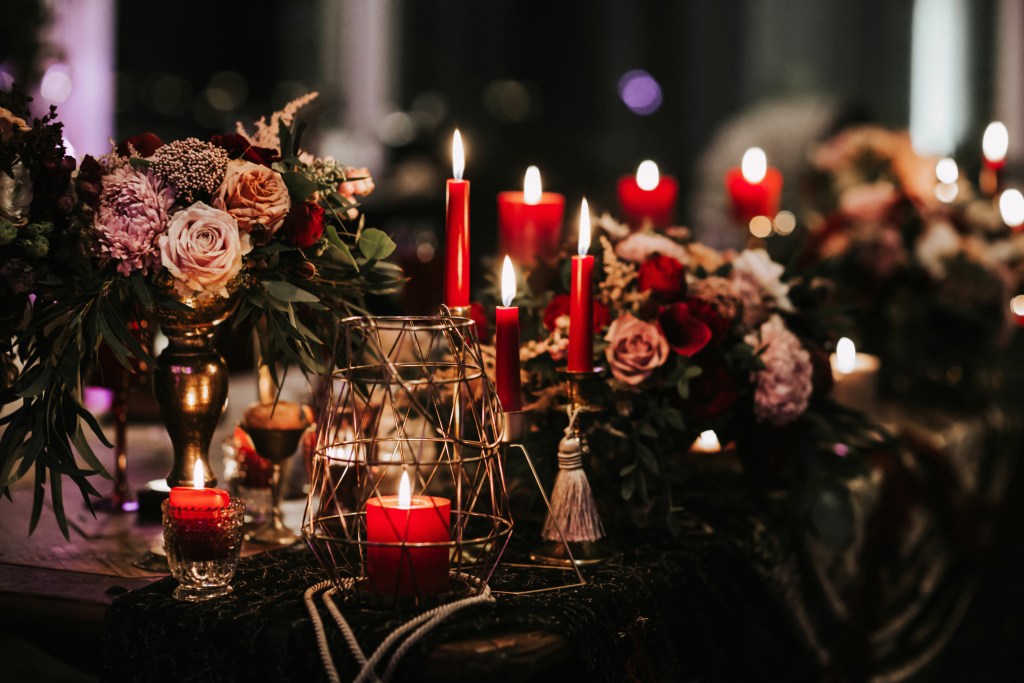 Decorate with Candles
Candles add a cozy touch that is perfect for the holiday season! You can decorate with them for the Christmas wedding ceremony, and you can add them to the reception tables.
Use Wreaths for Christmas Wedding Decorations
For an additional festive touch, use Christmas wreaths as decorations. Hang them on doors or over the edge of the sweetheart table at the reception.
Hang Strings of Christmas Lights
Add a magical holiday touch by stringing Christmas lights down the aisles for your ceremony, or around the tables at your reception.
Opt for Cranberry-Themed Cocktails
Cranberry is a great seasonal flavor, and the deep red is the perfect color for a Christmas wedding. Serve cranberry themed cocktails at your reception, or for a festive cocktail hour.
Use Ornaments as Placeholders
Fashion beautiful Christmas ornaments to hold your placeholder cards at the reception. You can use regular Christmas balls, or you can opt for something fancier!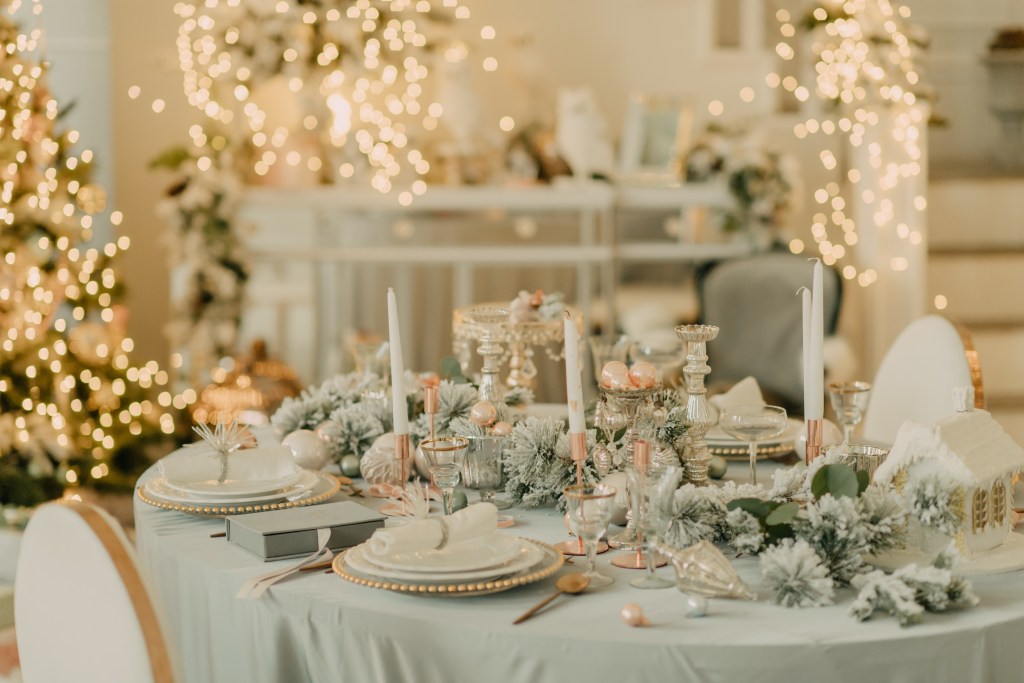 Set Up Winter-Themed Place Settings
Your place settings should be as wintery and beautiful as the rest of your wedding decor! Decorate with pinecones and holiday greenery. Gold silverware and plenty of winter whites add just the right touch.
Have a Christmas-Themed Sweetheart Table
Your sweetheart table is a great place to bring in the wintery theme for your Christmas wedding. Decorate it with a Christmas wreath, Christmas lights, and other wintery decor.
Display a Gingerbread House at Your Dessert Table
A gingerbread house is a unique and beautiful holiday decoration! Display a stunning one at your dessert table – and even consider having a platter of gingerbread cookies available for guests!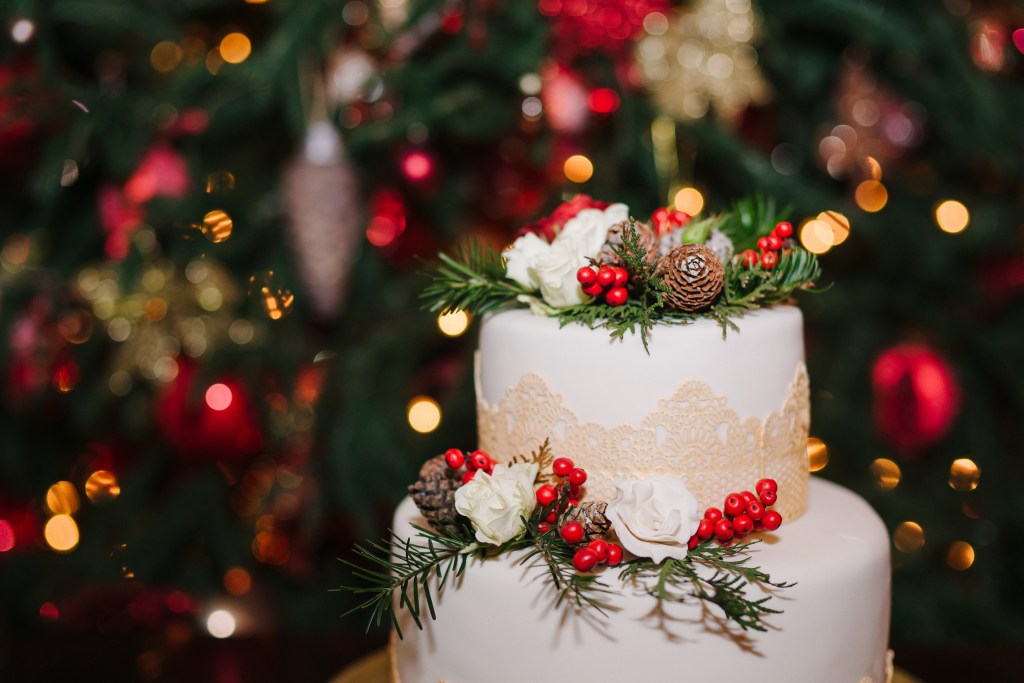 Choose a Festive Christmas Wedding Cake
A beautiful Christmas wedding cake starts with some beautiful white frosting and ends with seasonal decorations, such as berries and greenery.
Include Sugar Cookies at Your Dessert Table
Sugar cookies are a great festive dessert to serve at your Christmas wedding. They can even be cut into holiday shapes, such as snowmen, snowflakes, ornaments, and more!
Opt for Sleigh Rides Instead of a Party Bus
Sleigh rides are a festive and unique touch for your Christmas wedding celebration. You can have a sleigh transport the bride and groom to the reception, or even as transport for your bridal party.
Play Christmas Music
For your Christmas themed wedding ceremony, you can play instrumental Christmas music in the background. For the reception, have the DJ include plenty of holiday music in the mix!
Have a Festive Photo Booth
Photo booths have practically become a staple at weddings. To go with your Christmas wedding theme, opt for holiday accessories that guests can use to pose for their photos, such as reindeer antlers.
Opt for Festive Wedding Favors
Choose Christmas themed wedding favors that go with the season! You can give out beautiful ornaments inscribed with your wedding details, or even bags of fresh coffee beans.
Serve Christmas Themed Appetizers
Serve festive appetizers at your Christmas wedding, such as pita trees, red and green charcuterie, and more. You can even include candy canes as a festive touch to your holiday party.
Have an Eggnog or Hot Chocolate Bar
You can set up an adorable eggnog or hot cocoa bar for your Christmas themed wedding. Include a variety of hot chocolates to choose from, as well as marshmallows to top it off.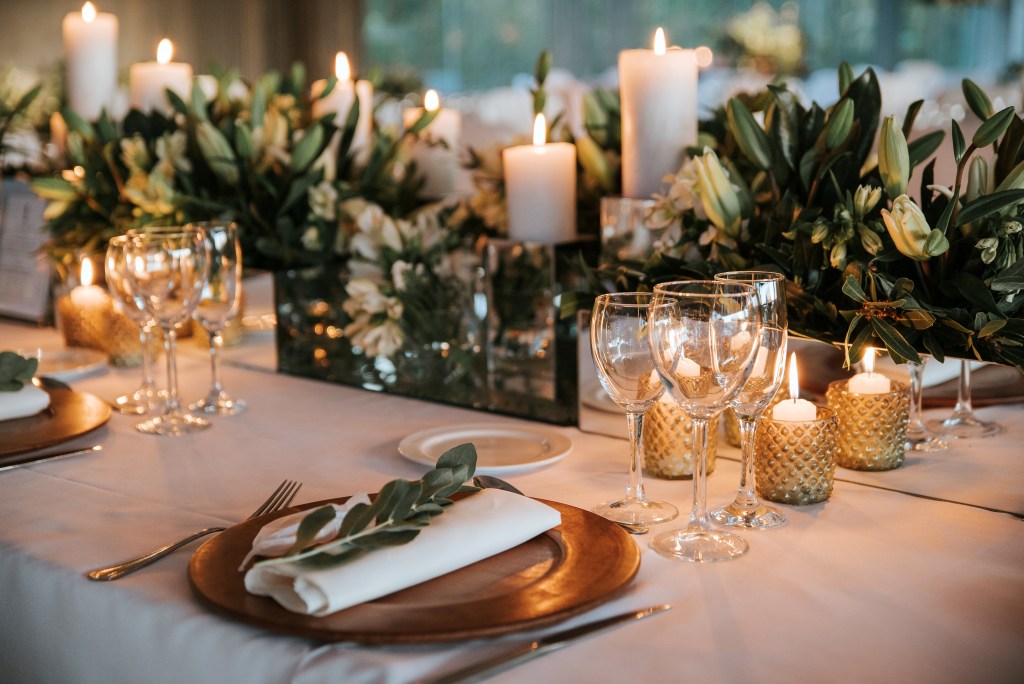 FAQs
Can you have a Christmas wedding?
Yes, Christmas weddings are quite popular! You may not want to host your wedding right on Christmas, as many will not want to change their holiday plans for a Christmas wedding.
How do you make a Christmas wedding special?
Add festive touches to your decor, menu, and bridal party outfits. This post has plenty of tips for hosting a stunning and memorable Christmas wedding!
Are December weddings popular?
Yes, December is a popular time to get married! Many people enjoy the holiday season and want to incorporate Christmas or winter themes into their wedding.
Sources
https://www.weddingwire.ca/wedding-ideas/awesome-christmas-wedding-ideas–c1029