What to Wear to Try on Wedding Dresses
Shopping for wedding dresses is an exciting and fun activity! You get the opportunity to visit bridal shops and try on a variety of stunning wedding gowns, with the end goal being that you find the perfect wedding dress to wear on your big day. Wedding dress shopping can also be quite overwhelming. There are…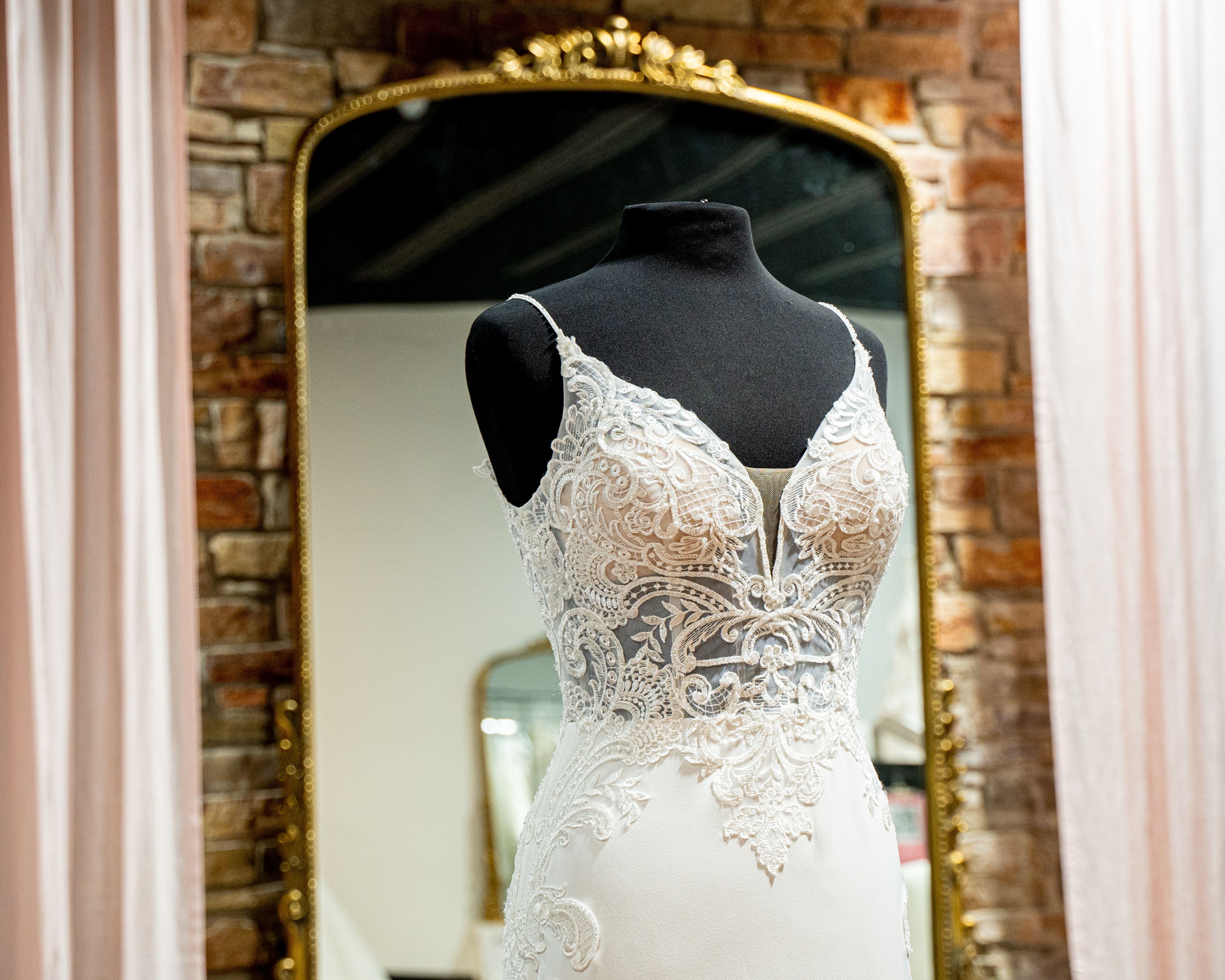 Shopping for wedding dresses is an exciting and fun activity! You get the opportunity to visit bridal shops and try on a variety of stunning wedding gowns, with the end goal being that you find the perfect wedding dress to wear on your big day. Wedding dress shopping can also be quite overwhelming. There are so many styles and sizes of wedding dresses to choose from that finding your dream dress can feel like an overwhelming task.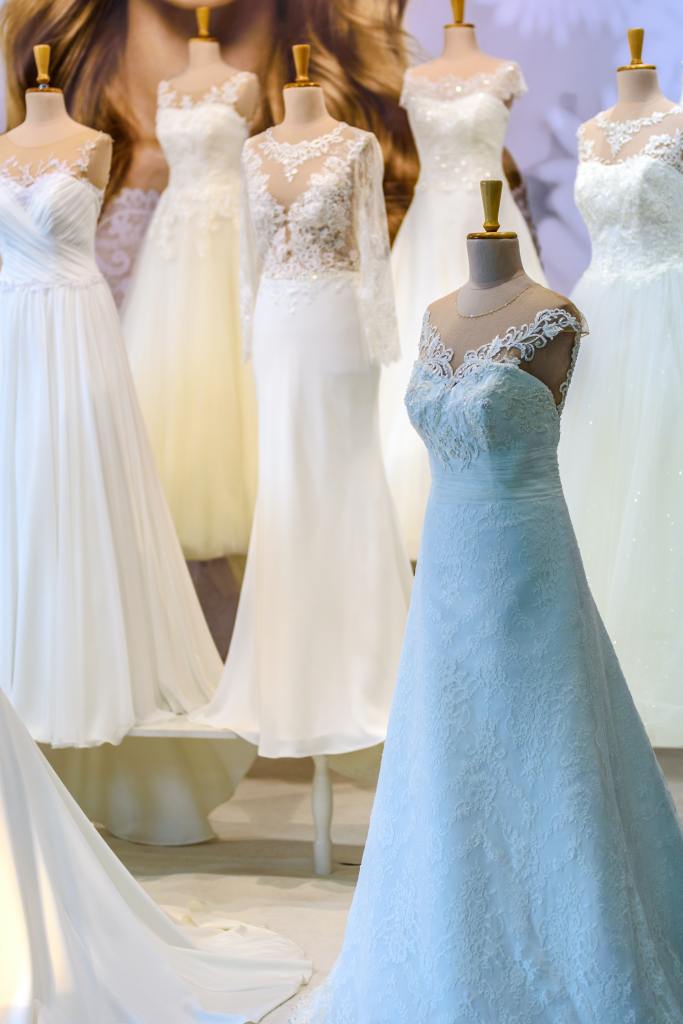 To make the most out of your shopping adventure, there are certain things that you should wear or bring wedding dress shopping that will help you find the perfect dress. Read on as we share the top nine things you should (or should not) wear wedding dress shopping.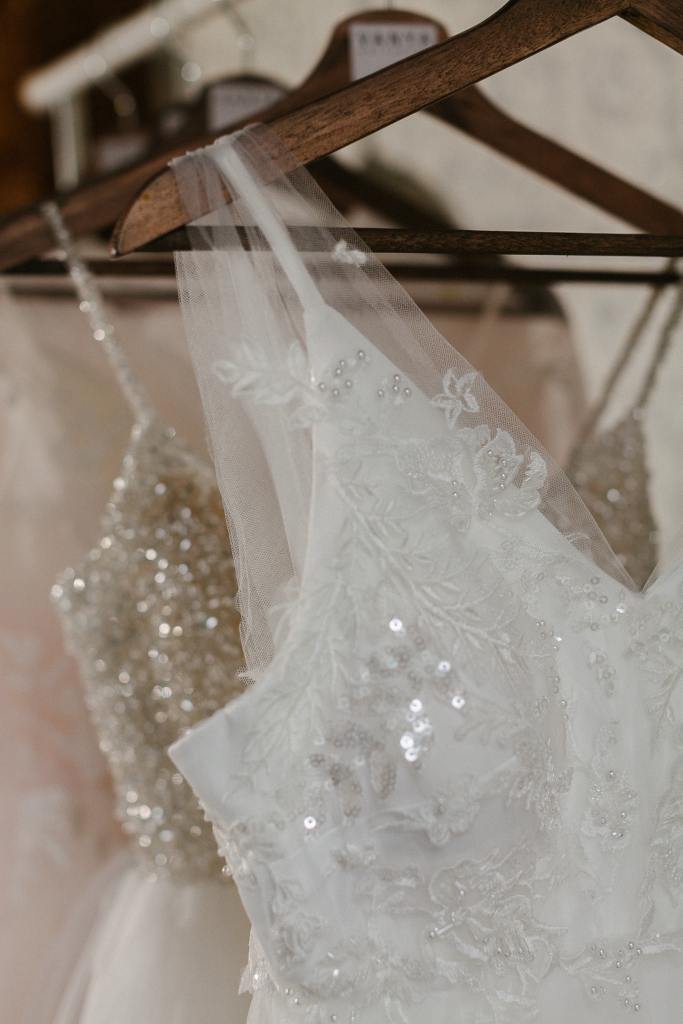 Wedding Dress Undergarments
Wear a strapless bra that is similar (or the same) to the bra that you will be wearing on your wedding day. A strapless bra will give you the best idea of how different wedding dresses will fit! A nude bra is the best option, as it will give you a neutral base and won't show through your dress.
You'll also want to wear some nude, seamless underwear and any shapewear that you will be wearing with the gown. For the sake of comfort, you can bring your shapewear with you and try it on with the dress, rather than wear shapewear under your everyday clothes.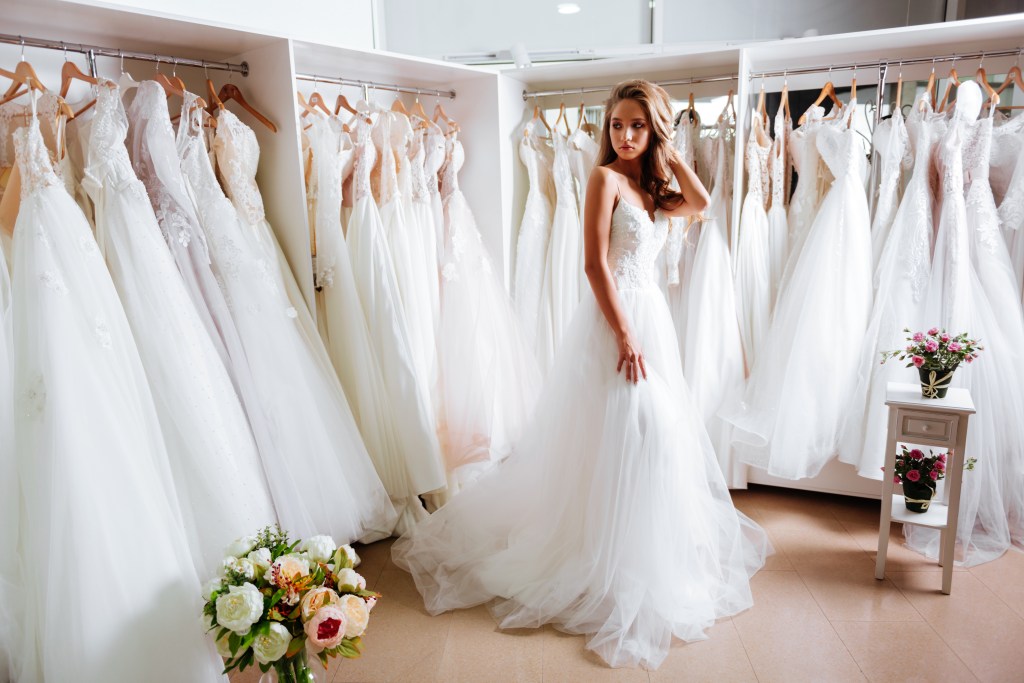 Ponytails or Hair Clips/Hair Accessories
Be sure to wear or bring a ponytail holder and some hair clips. Keeping your hair out of the way while trying on wedding dresses will make for a more comfortable experience. Once your dress is on, you can pull your hair back or put it down as you plan to do on the wedding day to give you the best idea of how the dress will look.
Other Accessories
Bring your intended jewelry and any other accessories that you plan to wear on your big day. This can help you determine what is the most flattering to pair with the dress of your dreams!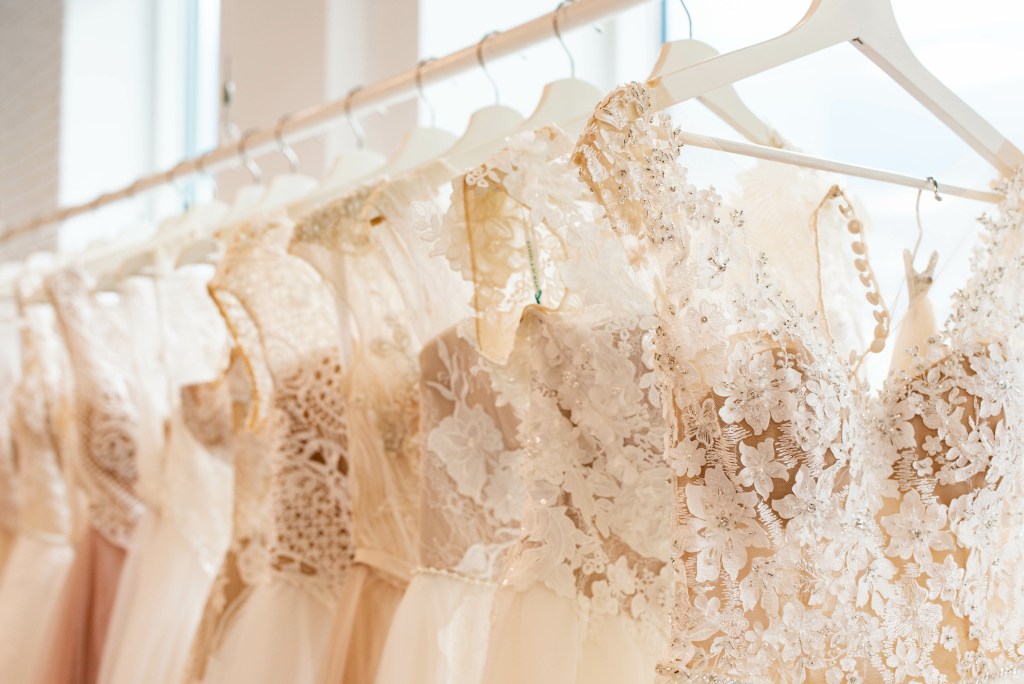 Don't Wear Heavy Makeup
Heavy makeup can transfer onto the wedding dresses you are trying on, and that's a surefire way to make your wedding dress shopping experience more stressful. You don't want to end up paying for a dress you won't wear! If you must wear makeup, go light or bring a silk scarf with you to cover your face while trying on dresses.
Wedding Shoes
If you happen to have the shoes you want to wear already picked out, bring them with you to try on wedding dresses. If you don't know what shoes you are wearing, bring a pair of heels similar in height to what you will wear on the day.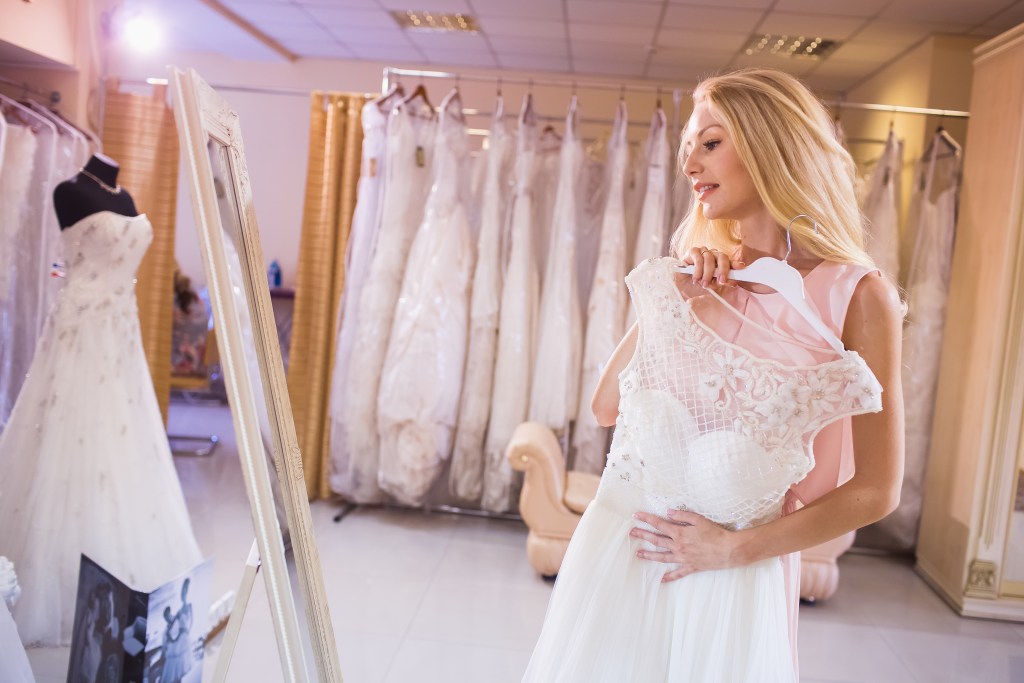 Don't bring a fresh spray tan
Like makeup, spray tans can rub off on dresses that you are trying on, which will put a serious damper on your day of dress shopping.
Bring a supportive crew
Having your closest friends and family with you for moral support is great for multiple reasons! First, you'll get the opportunity to share some special moments with your loved ones. Second, you'll be able to get a second opinion when it comes to the dress you are selecting. Those who know you best will help you determine what dress flatters you the most!
Inspiration Board
If you have been cutting out dresses from magazines or happen to have a Pinterest board loaded with dress inspiration, bring it with you while dress shopping! Sharing what you love with the salespeople can help them when it comes to directing you to the perfect wedding dress.
Open mind
Don't forget to keep an open mind! You might have your heart set on one particular style, but it's totally possible to fall in love with something unexpected. Be willing to try on some options that you wouldn't normally consider. You may be surprised at the results!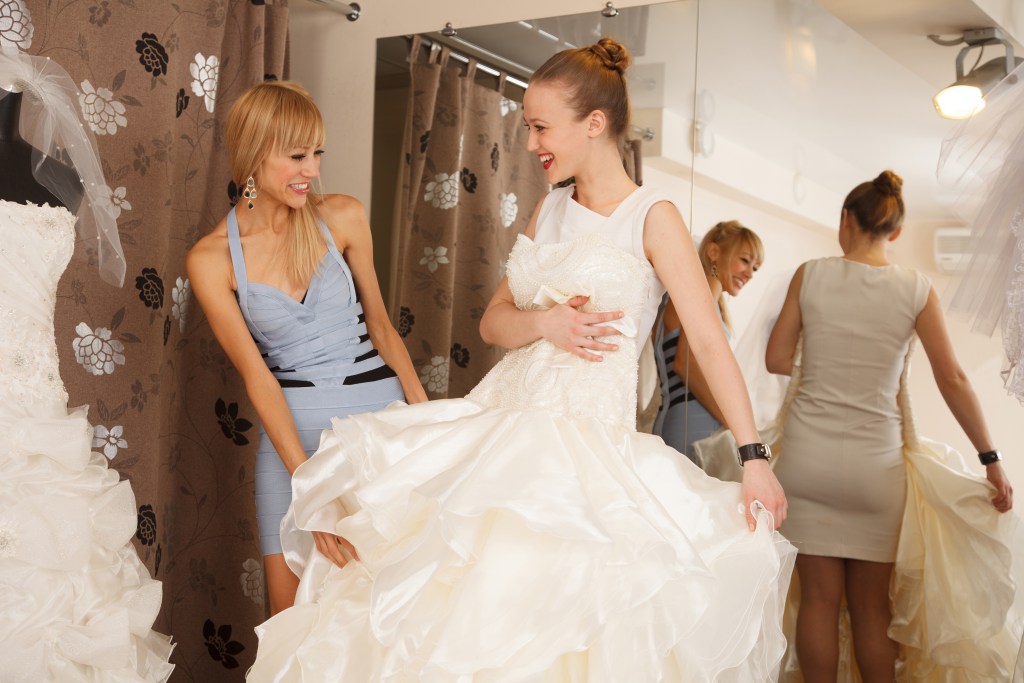 FAQs
Do I have to wear a bra wedding dress shopping?
You should wear whatever bra you plan on wearing with your wedding dress. This will help you be sure that the bra doesn't show through your dress, and it will also help you determine exactly how the dress will fit on your big day.
Do you wear makeup to try on wedding dresses?
It's a good idea to wear minimal or no makeup, as the makeup can transfer onto the dresses you are trying on.
Is it customary to tip a bridal dress consultant?
Most bridal dress consultants do not expect tips, but you can tip them if you find them to be extremely helpful in finding you the best dress.
How many people should you bring to try on wedding dresses?
Just bring a few of your closest friends and family members – those who know you and your style, and can help provide good insight on what works and doesn't work for you.
Sources
https://www.charlottesweddings.com/blog/what-to-bring-wedding-dress-shopping
https://www.yeahweddings.com/wedding-dress-shopping-undergarments/